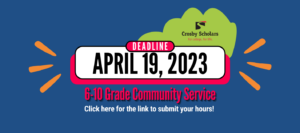 Community Service Deadline for 6th-10th Grade Crosby Scholars: APRIL 19, 2023
What is the Crosby Scholars community service requirement?
Each Crosby Scholar in 6th through 10th grade must complete two (2) or more hours of community or volunteer service each school year. This service should be done at a not-for-profit organization or program, and students should submit the online community service form to document their completed hours.
Students should not be paid, or receive a grade for their volunteer service, and due to our non-profit status, we cannot accept volunteer hours for working on campaigns of specific candidates during the election season.
Need ideas for Community Service or want to know how we define Community Service?  Visit the community service page on our website to view a list of available community service opportunities.
Click here to fill out our online community service form for 2022-23
Why community service?
Doing community service offers numerous benefits for middle school students, including social benefits, personal development, and improved self-esteem. Encouraging students to participate in community service activities can help them grow as individuals and make a positive impact on the world around them.
Questions?  Contact us at middleschool@crosbyscholars.org or highschool@crosbyscholars.org. If you have questions about whether your community service idea meets the requirement for the Program, please contact the Crosby Scholars Program.  Crosby Scholars Program staff reserves the right to determine if a community service activity fulfills our requirement.