Join us for the 15th Annual Crosby Scholars Invitational
and Breakfast of Champions!
May 24th & May 25th, 2021
The Crosby Scholars Community Partnership – an organization of 11,000 students, 250 volunteers and 11,100 alumni, is the thriving legacy of the magic of The CROSBY. We look forward to seeing old friends and welcoming new ones!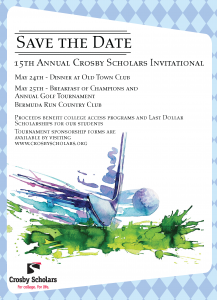 Last Year, You Made This Happen!
Enrolled over

11,000 students

in Crosby Scholars in grades 6-10.

Crosby Scholars performed more than

77,000 hours

of community service.

1,078 seniors

graduated attending

125 colleges and universities

.

We awarded more than

$989,000 in Last Dollar Grants and Scholarships

to students for the 2019-20 academic year.
2021 Crosby Invitational Sponsorship Form
Be Grateful   
By Kathy Norcross Watts
"Never delay gratitude."
That was advice from the late Wake Forest basketball coach Skip Prosser, and Mick Mixon, play-by-play announcer for the Carolina Panthers, shared Prosser's wisdom at the Breakfast of Champions before the 14th annual Crosby Scholars Invitational at Bermuda Run Country Club. "I would encourage you to keep a gratitude journal," Mixon said. "You didn't get here in a vacuum, so thank the people that helped you." The CROSBY National Celebrity Golf Tournament, the longest running charity golf tournament in the nation, moved to Bermuda Run in 1986, thanks to Kathryn Crosby, Bing Crosby's widow. Money raised from the event formed the foundation of Crosby Scholars, and the Crosby Scholars Invitational continues to be the primary fundraiser for the college access program. This year, the tournament raised $357,000 to support need-based Last Dollar Grants and college access programming. Crosby Scholar's new women's-only fundraiser, Birdies & Brunch, raised $9,500.
Mixon graduated from UNC Chapel Hill, where he studied broadcast journalism, and has worked as a sports announcer for 40 years. He presented "Mick's Rules of Health, Happiness and Success in Life:"
"You must work on your speech, your speaking. What good it is for you to be brilliant and ambitious and talented if you sound like a total dufus? 'Like' must not be substituted mindlessly for other words… Work on your uptalking… Literally means literally."
"Avoid clichés. Develop your own speaking style. Set your conversational goals higher."
"Question everything."
"Learn how to ask good questions. Here's your three C's: courage, curiosity and creativity….It's about your ability to find out what other people know."
"Have your avocation be your vocation, and you'll be sustainably wealthy."
"Don't be too confused about networking. Internships and courses, that takes care of networking…. Develop a reputation of being hard-working, a problem solver, selfless, accept criticism….
Perform well at your job, make yourself indispensable in your internship, and the marketing of your brand will build its own momentum."
"Dental floss. A miracle on a par with mitosis, meiosis and compound interest. It costs nothing, it comes in different flavors and can save you thousands of dollars over time."
"Don't pass along gossip. Be careful with what you put on Facebook."
"Find a mentor. Don't leave these colleges without developing a mentor. Have somebody you can call to ask questions."
"When a bird leaves the nest does it then return to the nest with five bags of dirty laundry and an unpaid car interest bill? What does it do? It flies. When you graduate college, don't take the bait on moving back home. It's not nature's way."
"Dress for the job you want, not the one you have."
"Travel light and live below your means."
"Writing equals respect. Learn to write well. Spell check is not your friend, so do not depend on it."
"Do not park at the gas pump, go in and get a slushy, and then come back out and pump gas. You get your gas, move your vehicle to a parking place and THEN shop inside if need be."
"When the elevator door opens, do not get on until people who are getting off have exited."
"Listen to as many games as you can on Carolina Panthers Radio Network!"
Crosby Alumnus Blaine Pugh works as a Crosby Near Peer Advisor at Forsyth Tech, and he credits Crosby Scholars for helping him get to—and through—college. Pugh said he was a first-generation college student, whose family did not have money to send him to school. Crosby academies made him a better test taker, he said, and the community service requirement of Crosby Scholars prepared him to be involved and active on campus.
"My Crosby advisors were invaluable," he said, even though he initially rejected their suggestion to start his college career at community college because he perceived a stigma with that path.
"I couldn't have been more wrong," he said. He graduated with honors from Cape Fear Community College and was student body president. He transferred to UNC Chapel Hill, and said, "I got to call my grandmother and tell her I was going to be a Tar Heel."
He graduated in 2018, and when he interviewed for the job at Crosby Scholars, President & CEO Mona Lovett remembered him.
"For her to remember my face was astonishing to me," Pugh said. In his role as a Near Peer Advisor, Pugh met with 96 students this year, and he, too, had advice for the graduates: "Carry with you the values this program teaches, no matter where you go."
The many facets of Crosby Scholars prepare students in the program for whatever post-secondary educational path they choose, said Jason Wenker, Vice Chairman of the Board of Directors. The program requires volunteerism, a commitment to remain drug- and alcohol-free and to participate in academies that include topics, such as interviewing skills workshops, career exploration, goal setting and time management. Several students received scholarships at the breakfast.
"It's all free," Wenker said. "Which is why we're here today."
Crosby Scholars has served more than 34,000 students in 27 years, and this year graduated 1,010 seniors. Crosby Scholars awarded more than $64 million in need-based Last Dollar Grants for the 2018-2019 school year.
"Literally thousands and thousands of young people have been impacted by this program," Winston-Salem Mayor Allen Joines said. "Kathryn was totally responsible for bringing Crosby here."
Crosby said she was grateful to find a community to embrace The CROSBY and the family's commitment to philanthropy, and she believes the Crosby Scholars Program's requirement for community service is important.
"I think you've got to dream really big because nothing can stop you," she told the seniors. "The community loves you, and I love you, too."
Learn More About The Crosby Invitational