4th Annual Birdies & Brunch
Tuesday, September 19th at Maple Chase Golf and Country Club
We are thrilled to announce our 4th Annual Birdies & Brunch event will be held at Maple Chase Golf and Country Club on Tuesday, September 19, 2023 at 9:00 am. We are excited to continue this women's only event to raise funds for need-based Last Dollar Grants for Forsyth County students to attend college, and to increase awareness of the Crosby Scholars Community Partnership. With your support we can ensure that every public school student in Forsyth County has the opportunity to attend college.
Join us for a mimosa brunch where Birdies & Brunch guests will hear remarks from a Crosby Scholars alumnus and receive a special message from Rachel Kuehn of Wake Forest University women's golf team. Rachel is the ACC Scholar Athlete of the Year, two-time ACC Player of the Year, four-time All-American and a member of the 2023 Women's Golf National Championship team. The event will include a silent auction and your choice of a golf clinic or nutrition clinic for those who would like to participate.
The golf clinic will be led by Kim Lewellen, Head Coach of Wake Forest University Women's Golf and former Wake Forest Women's Golf Coach Dianne Dailey, Paul Allen, Head Golf Professional at Maple Chase Golf and Country Club and Mary Thomas, Head Golf Professional at Bermuda Run Country Club. The nutrition clinic will be led by Alice Smith, MS, RD, LDN, CHC, Registered Dietitian and Certified Health Coach, owner of Alice Approved.
We invite you to attend and contribute to this 4th Annual Birdies & Brunch event with the purchase of a $100 individual ticket or sponsorship. Thank you for your support!
Thank You to our Sponsors!
Women Get it Done at the 2nd Annual Birdies & Brunch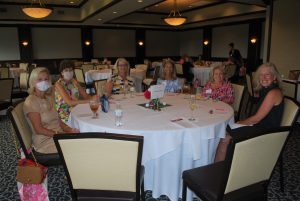 The second annual women-only Birdies & Brunch event raised more than $31,000 thanks to the generosity of women attending the fundraiser for Crosby Scholars Last Dollar Grants (LDGs).
"Thank you for making our students a top priority," said Ginger Salt, Chair of Crosby Scholars Board of Directors.
Salt said that in 2020, Crosby Scholars awarded more than $900,000 in LDGs to Crosby Scholars to help them afford college. Funds raised from Birdies & Brunch and its silent auction will benefit 2022 Crosby Scholars graduates.
"At the end of the day women get it done," Winston-Salem Mayor Pro Tem DD Adams said.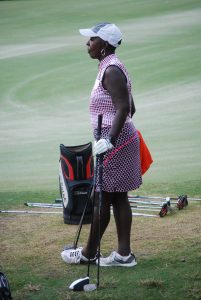 Crosby Scholars serves 11,000 students in every public middle and high school in Winston-Salem/Forsyth County Schools (WS/FCS) and has a 100 percent high school graduation rate, said Crosby Scholars President & CEO Mona Lovett.
"The college admissions process has changed a lot," Lovett said. "Students have to start preparing early. They have to make sure they're taking the right courses, starting sometimes as early as 7th or 8th grade. It can be competitive, but more importantly, it can be overwhelming, especially for students whose parents haven't gone to college or who are intimidated because they don't see people that look like them."
Crosby Scholars begins in 6th grade to help students and parents believe college can be a reality, and programs about goal-setting and financial literacy lay the groundwork to help them understand how to achieve that goal. Crosby Scholars offers focused outreach for African-American and Hispanic/Latino students that incorporate culturally aligned programming and mentors who look like the students they serve, including Excelencia for Hispanic/Latina girls and The SHE Project: Show, Help, Employ, which introduces African-American and Hispanic/Latina girls to STEM careers so that they will be aware of and understand how to prepare for these higher paying careers. African American Males Pursuing Educational Dreams (AAMPED) and Hispanic/Latino Males Success Program (HLMS) provide extra support for young minority men in Crosby Scholars.
Lovett said that a hallmark program of Crosby Scholars is its advising program, which supplements the work of WS/FCS counselors who are each responsible for an average of 375 students each year.
"Every senior in our program is assigned a 1-on-1 advisor," she said. "Our advisors help students navigate every step." The advising program has expanded into the junior year at high-need Title 1 schools to provide individualized guidance even earlier. In 2020, 1,078 seniors graduated as Crosby Scholars and enrolled in 125 colleges and universities.
"It really is a program that's open to all and free to all," Lovett said. "Students like that it's open to everyone and say, 'We like meeting people from different schools.' They like that connectivity."
"One of the charges I'll give today is: tell somebody about Crosby Scholars," Lovett said, to raise awareness about the program, especially since the COVID-19 pandemic has caused so much isolation. "We want those young people to reengage and get connected with Crosby."
The program featured 2017 Crosby Alumnus Alese Berry, who now works at Crosby Scholars as the Program Assistant for The SHE Project.
Guests also enjoyed a discussion of the impact of Title IX on opportunities for women in athletics by Dianne Daily, who retired as the Wake Forest University Women's Golf Coach in 2018, and Wake Forest University Women's Golf Coach Kim Lewellen.
For those who want to improve their golf game, Birdies & Brunch provided a golf clinic led by four outstanding women golf pros: Kim Lewellen, Dianne Dailey, Mary Thomas, head golf pro at Bermuda Run Country Club, and Anne Marie Goslak, a member of LPGA and PGA and founding Executive Director of First Tee of the Triad.
Birdies & Brunch was the brainchild of Becky Perkinson, who worked in development for Crosby Scholars for 14 years before retiring in 2021. Perkinson, who received the Ace Award in honor of her work, had been looking for a way to expand the message of Crosby Scholars' impact with a new event focused just on women.
"She has brought so many of you into the Crosby fold," Lovett said. "All of these connections mean so much."
Celebrating Title IX and Women's Golf
Crosby Scholars' 2nd annual Birdies & Brunch provided an early preview to the 50-year anniversary of Title IX's prohibition of sexual discrimination, thanks to a discussion between Dianne Dailey, Wake Forest University's women's golf coach who retired in 2018, and Kim Lewellen, the current WFU women's golf coach.
The two coaches share mutual respect and friendship, and they discussed changes and progress they've experienced in women's sports overall ― and women's golf in particular.
Last year, Lewellen was named National Coach of the Year and has been named ACC Coach of the Year four times.
"The program is in such great hands," Dailey said.
Lewellen said the golf program has come a long way in the 50 years since Title IX passed. WFU has six full women's golf scholarships and has players from as far away as Switzerland, Spain, Ireland and Thailand as well as North Carolina, Florida, New Jersey and Chicago. Three of the four top WFU players are ranked 23 or higher in the world. 
Progress in women's athletics over the years "allows our women to take what they love to do and travel and make a career of it," she said. "It's the reason I wanted Dianne here with me. She's a Hall of Famer. Not only is she someone that we all have looked up to who has helped grow the game and grow student athletes and women in the sport, she also had some great mentors who did the same thing."
For Dailey, what's most important is "how far women have come with learning the values of sports."
"That was the one thing I always talked about when I first got there: sports can teach you so much," she said. "They can teach life skills you need to be successful. Why would we reserve that just for men? So let's get out there, and let's teach these students about discipline and hard work and focus and time management and all these things that can help them be successful in careers and business."
Dailey has enjoyed the opportunity to "not only watch the program, but those students grow to go on and be successful young women. Sport is such a great teacher of confidence. I'm so happy we are celebrating the 50th anniversary of Title IX."
When Dailey came to WFU in 1988, the university had one full-time head coach―for basketball.  The other teams were coached by assistant coaches with the men as the Director of that sport.  The five original women's sports teams – field hockey, volleyball, basketball, tennis and golf―were coached by 2 coaches.  One coach had 4 teams and the women's athletic director coached golf.  . Women's teams shared jerseys, and 25 to 30 athletes played all the sports.
"They got it started," Dailey said. "They built that foundation for us."
When Title IX passed in 1972, most athletic directors didn't pay much attention, she said, and a Senator from Texas even tried to exempt athletics from Title IX. Women's college athletics were run by an association of physical education teachers. Gladys Palmer, who was chairperson of the women's division of Physical Education at Ohio State University, organized the first women's golf championship in 1941. 
 It wasn't until 1988 and the Civil Rights Restoration Act that things began to change.  "A women's basketball coach at Howard University sued for equal pay—and she won, and for first time in a Title IX suit the judge awarded damages," Dailey said. 
Dailey arrived at WFU in 1988 and remembers it as a watershed year, as athletic directors built facilities and added women's sports. 
"Anne Marie (Goslak, now a member of LPGA and PGA and founding Executive Director of First Tee of the Triad) was on the first team," Dailey said. "The first semester we didn't have a practice facility. We would hit on the soccer field, outside the lines, over the fences―and pick up balls before the soccer team practiced."
WFU built a golf complex and the Haddock House, but Dailey didn't have a key, so she couldn't show it to recruits on the weekends. The players had just four shirts, four shorts, one sweater, one rain suit, golf balls and a bag. Players provided their own clubs and shoes—and golf pants.
"I never knew how many different shades of khaki there are," Dailey said, and before a tournament at Hilton Head, the team stopped at The Gap at Tanger Outlet to make sure their pants would match. During the week-long NCAA tournaments, Dailey did laundry at night because the players only had four sets of uniforms. 
"It really has come a long way," she said. "Now we have a wonderful practice facility for both men and women, and we all have assistants."
The Arnold Palmer Golf Complex opened in the spring of 2010, and includes the Haddock House, the Haas Family Range and the Dianne Dailey Golf Learning Center.
"It is the nicest practice facility in the country," Dailey said, adding with a laugh, "We have people to pick up balls for us."