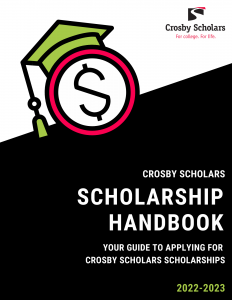 It's Crosby Scholars Scholarship Season!
Over 30 Crosby Scholars Scholarships opened in the Crosby Scholars Student Portal on October 1st!
Check out our Scholarship Handbook for the full list of Crosby Scholars Scholarships, application instructions, documents required for scholarship applications information about the review process, important dates, frequently asked questions, and more!
Students can submit scholarship applications in their Crosby Scholars Student Portal.
Questions? Email finaid@crosbyscholars.org