Have Financial Aid Questions? Schedule a Zoom meeting!
Contact Ashly Wilson, Crosby Scholars Financial Aid Coordinator at 336-582-0015, or awilson@crosbyscholars.org.  Click HERE to schedule a virtual meeting to discuss any Financial Aid questions or concerns.
Smart Money Moves: Scholarships & Financial Aid Newsletter
Smart Money Moves is your monthly guide to Scholarships and Financial Aid Information.
2023 Crosby Scholars Scholarships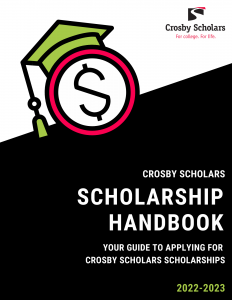 All Crosby Scholars Scholarships opened on October 1, 2022! 
Check out our Scholarship Handbook for the full list of Crosby Scholars Scholarships, application instructions, documents required for applications, information about the review process, frequently asked questions, and more! Crosby Scholars Seniors can apply for Crosby Scholars Scholarships in their Student Portal.
Need help determining which Crosby Scholars Scholarships best fit you? Check out our Crosby Scholarships Pathway
Questions about scholarships? Email finaid@crosbyscholars.org
Outside or Institutional Scholarships
Need ideas on how to find information on outside Scholarships?  Check out our Outside Scholarship Resources Database!
Institutional Scholarships are those offered by a specific college or university.  Typically, these scholarship opportunities are listed on the schools Financial Aid web page.  Students can begin by researching institutional scholarships offered at the colleges where they plan to apply. The financial aid web page of every college lists scholarships unique to their school and the qualifications necessary for consideration. Students applying to schools in other states can easily locate this information on their web pages.
Every high school in the Winston-Salem/Forsyth County Schools System has a school counselor designated to serve as the scholarship coordinator.  Seniors should make sure they know who is in charge of scholarships and how to access their high school's scholarship newsletter.  High schools provide information on local scholarships, such as those awarded by the Winston-Salem Foundation, as well as opportunities on a national scale, such as the Ron Brown Scholar Program and the Jack Kent Cooke Foundation Scholarship Program.
College Board Opportunity Scholarships - Turn your Efforts into Scholarships!  The College Board has launched a new scholarship program with $5 million of scholarships each year.
The Crosby Scholars Last Dollar Grant is need-based grant opportunity that seniors may apply for during the late spring of their senior year.  The Last Dollar Grant is not automatic; scholars must meet all criteria and apply using their Crosby Scholars Student Portal.   Scholars must demonstrate not only financial need but also remaining need after the school of choice has awarded aid.  For more information, follow the link to the Last Dollar Grant page.
Financial Aid Resources for Undocumented and DACA Students
There are several local, national, and regional resources for students who are unable to access Federal financial aid due to citizenship.  Find starting tips here.
The Free Application for Federal Student Aid (FAFSA)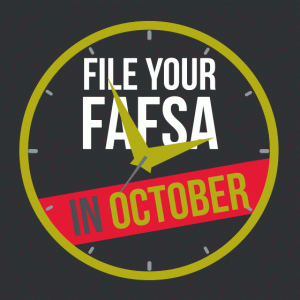 The first step to applying for financial aid is completing the Free Application for Federal Student Aid or FAFSA.  The FAFSA opens for applications beginning on Oct 1. There are several FAFSA priority deadlines that you need to be aware of (the deadline for your state, a federal deadline, and an institutional deadline -- see below for more info on school specific deadlines.) North Carolina's state priority deadline for Financial Aid is as soon as possible after Oct 1.
Remember, there are College Financial Aid Deadlines, State Financial Aid Deadlines, and a Federal Financial Aid Deadline. Meet these deadlines to ensure access to the most Financial Aid possible. 
 Review these Helpful Financial Aid Hints to better understand what to expect during your senior year.
College costs vary widely, and the sticker price at some schools discourages students from applying, because they are convinced they cannot afford to attend. However, the only way to discover the true cost of attendance is to submit the FAFSA and review the school's financial aid package upon receipt. Private colleges with large price tags frequently provide merit aid that makes their overall cost comparable to, or in some instances, more affordable than, public universities.
Outside scholarships can further reduce the cost, depending on how they are factored into the aid package. Students should ALWAYS check with the financial aid office to determine how private scholarship funds will affect other aid they were offered. Ultimately, students and families are best served by waiting until they are able to compare all financial aid packages before deciding which college is the best choice financially.
Federal Student Loans are a common option for funding your College education.  Find out everything parents and students need to know about Federal Student Loan borrowing with CFNC's Smart Loan Borrowing Guide. 
COVID-19 Financial Aid Updates & Resources
The COVID-19 pandemic continues to affect the lives of students in many ways. It may have interrupted your college plans and created concerns regarding your financial aid.  As we receive updated information, we will post it here.
CFNC Financial Aid Tips for Students
CFNC Financial Aid Tips for Students (SPANISH)
How to Ask for More Financial Aid Due to ongoing Impacts of the Pandemic
Has your family been financially affected by impacts due to the ongoing Pandemic? If so, you should think about writing an appeal letter to your colleges Financial Aid office to ensure that you are being offered as much funding as possible.  How do you request a change to your Financial Aid package? SwiftStudent will help you write a financial aid appeal letter for free.
CSS Profile
While all colleges require the FAFSA, some schools also require the CSS PROFILE. Unlike the FAFSA, the CSS PROFILE costs $25 for the first application and $16 for each additional application submitted. Make sure that your school requires the CSS Profile before filling it out.
Additional CSS Profile Resources: 
1. Getting Started: A CSS Profile Tutorial
2. Need guidance on how to report your Parents on the CSS Profile? Reporting Parents: A Guide
3.  What if you have a unique family situation? Completing the CSS Profile as the NON CUSTODIAL Parent
For more information on how to complete the CSS / Financial Aid Profile, including a list of colleges, visit BigFuture College Board.
Helpful Links
Need help comparing your Financial Aid Award Letters? Check out this Compare your Aid Award tool from College Board & Big Future.
CFNC: Choosing the Right Loan Worksheet
CFNC: Borrowing Wisely Worksheet
Understanding your Responsibility when Borrowing Student Loans