Crosby Scholars Juniors – Did you know you will be taking the ACT for FREE at school on March 1st, 2022?  Take advantage of this opportunity and start preparing now!
Join Crosby Scholars Program for an ACT Bootcamp Series
Click on the flyer for more information.——>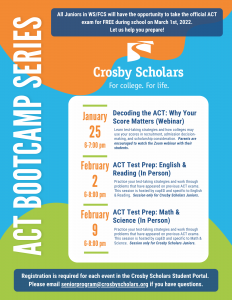 Please register for each event in your Crosby Scholars Student Portal.  Find details for each event in the Portal.
Questions?  Contact seniorprogram@crosbyscholars.org or call/text 336-671-5494 to reach our team.